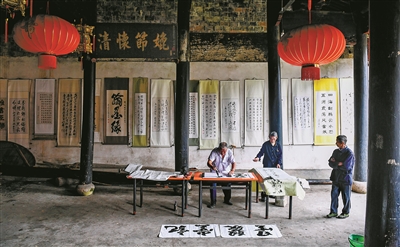 Longgong Village. /龙宫村。[Photo by Yan Long]严龙摄

  Longgong Village is located in Shenzhen Town, Ninghai County. It has a history of more than 1,000 years and was listed as a "Famous Chinese Historical and Cultural Village" in 2014.
  龙宫村位于宁海县深甽镇,有一千多年的历史,2014年被列入中国历史文化名村。
  Legend has it that a dragon is hiding in the village.
  相传这里是蛟龙藏卧之地。
  In the west of the village, there is a deep, blue pond called the Shidou Pond below an overhanging cliff. According to myths, the dragon hides in a cave on the cliff wall and always brings timely rain to the village, banishing draught and keeping the land fertile.
  村西有个石窦潭,此潭处在悬崖峭壁之下,潭深无底,碧水辉映,悬崖石壁上有个涵洞,传说蛟龙就藏在这幽深的岩洞里,及时行雨消旱,使村民丰衣足食。
  The locals consider the pond the dragon's residence, hence the village name "Longgong" (Dragon Palace).
  所以,人们把此潭视作水晶宫,村名龙宫也由此而来了。
  Longgong Village has a significant number of historical buildings.
  龙宫村密布着一大片青瓦白墙、飞檐翘角、苍华古朴的建筑群舍。
  The most notable is the "Sanchuan Hall", built in the Ming and Qing dynasties. Sanchuan Hall consists of three buildings interspersed with three courtyards. In front of the main entrance, there is a screen wall decorated with the Chinese character for good fortune (福). In the courtyards there are flower beds and a well. The design of the Hall is majestic.
  如今最有特色的有明清时期的"三串堂",即三幢房屋和三块道地连串在一起,前有福字照墙,后有花坛、水井,显示出建筑气势恢宏。
  Another remarkable piece of architecture is the village's ancestral hall, fronted by a screen wall.
  Two stone-drums flank the entrance. Inside, there is a Chinese opera stage with a spiral dome, painted with two dragons encircling a pearl, embodying the villagers' aspirations for good fortune.
  村族宗祠前有一道照墙,宗祠大门两旁屹立着两只抱鼓石,祠堂内有独特的藻井顶戏台,绘画着双龙抢珠的图案,象征村落龙凤呈祥、兴旺发达。
By Dong Na